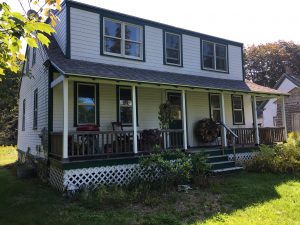 There are many resources to help you figure out if you can afford to buy a year-round island home.
You could start with a local realtor who can help you determine if there are affordable homes on the Cranberry Isles and if you have enough income to purchase one. You also need to have a credit score high enough so that banks are willing to loan you money. Realtors can recommend banks and different programs which help people buy homes with little or no down payment.
Most of us borrow money to buy a house and that usually means you need to come up with some money on your own for a down-payment. Banks often require a down-payment of 20% of the cost of the house. For example, on a $300,000 house, that amounts to a down payment of $60,000 – that level of down payment may be out of the reach of many families. There are, however, some financing programs which do not require any down-payment or only a very low down-payment.
First off, there's the Cranberry Homes Assistance Program (CHAP), a program of Cranberry Isles Realty Trust (Trust). CHAP was created to help individuals and families who want to buy a home on the Cranberry Isles, and who qualify for a bank loan, but who haven't been able to save enough for the down payment. For example, you may have been able to save up $10,000 for a down payment but need $50,000. CHAP may be able to help you make up that difference.
The following other programs may also be good options for you to check out:
Veterans Administration (VA) works with banks and provides loans for eligible vets with no, or low, down payments and reduced interest rates.
Maine State Housing Authority (mainehousing.org) provides low or no down payment programs, and even some grants to help with closing costs.
Some banks can help you get federally-backed loans with low or no down payments.